…fruit flies like a banana.
I don't know where it's going!! I've certainly been a bit busier at work than in September (thank goodness!!) but I still should have blogged.
I've been taken on by another company too, so I will have a bit more work – only an extra 4 hours a week at the moment, but it may increase. I will have to juggle hours carefully between two companies now (and not get my students mixed up!!)
Next Thursday will be my 60th birthday (how did that happen?!). We're celebrating by having a few days in the UK – we'll be there for Brexshit Day (the day when the shit hits the fan!!) – so we hope France will let us back in!!
We were away last weekend at a friends'. Daniele and Paul used to live in the village, but when Paul died, Daniele moved away to be closer to her children. We visited her in her new(ish) flat in St Paul Trois Chateaux down in the Drome region.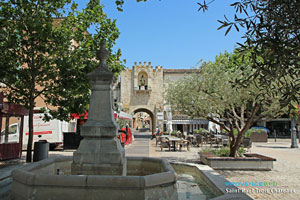 It's a very picturesque place. She is well situated, within walking distance of the town centre, with shops and restaurants, and also near to her grandchildrens' schools. It was lovely to see her and catch up on her news.
If I don't blog for a bit, don't worry.