On Tuesday, Mr FD couldn't decide whether to go cycling or not in the afternoon, so while he was making up his mind, we drove to visit Les Salins, which are former sea salt works. Salt has been "created" here since 4 BC, until about the 1990s. It's now a bird reserve, where one can see herons, egrets, flamingoes etc. But sadly, not on Mondays and Tuesdays, as that's when it's closed!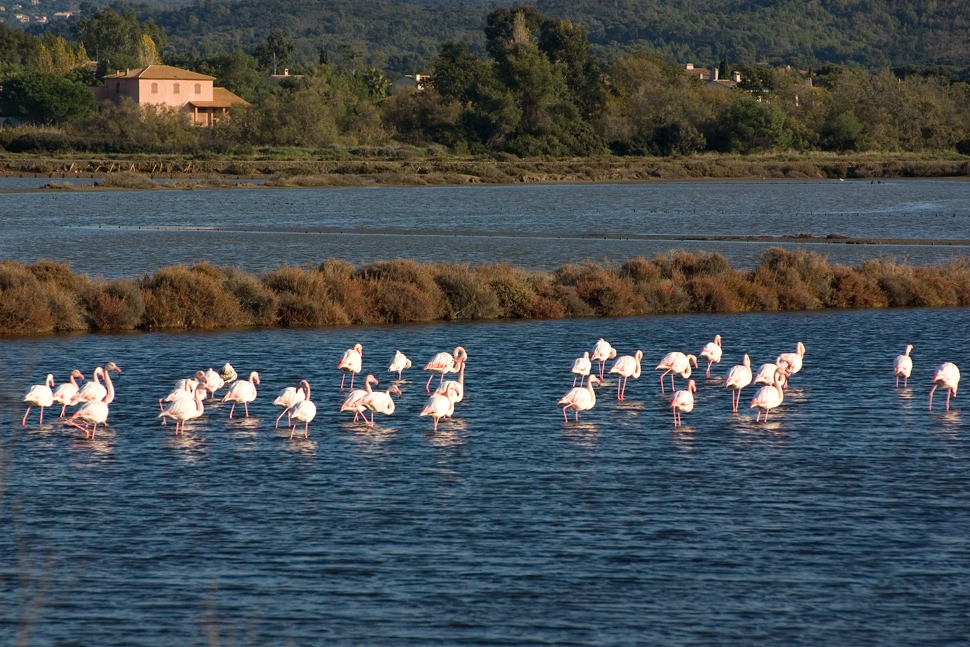 So, having rattled gates and tried to find alternative entrances, we ttook a photo from the vierwing platform, and decided that instead we would wander along the beach for a while, just enjoying the sunshine, and being with each other.
We headed back about 11.00, and I had a read and a snooze until lunchtime. For lunch there was something, but I can't remember what! Nope. It's gone…no idea!
Mr FD had decided that he wanted to go cycling, but not up hills, so he went out with just one other cyclist, along the coast. The others headed inland to climb up hills. I decided to explore Bormes-la-Mimosa, a village about 15 minutes away.
I knew there was a park there, so I hoped to find something to paint, but there was nothing that inspired me. I passed this house, covered in wisteria, which I considered painting, but there was nowhere to sit.
Having wandered through the park, I then explored the village, coming across more picturesque sights:
I treated myself to a banana ice cream (yummy!) and then did a little bit of window shopping in the boutiques and craft shops.
Nothing really caught my attention, so I didn't feel deprived! This cat was quite photogenic – but not very friendly
Bizarrely, when I returned, there was still a cat sitting by the pot – but it was a different cat! I suppose they must take it in turns to sit and be photographed!
I got home, and Mr FD and I sat on our balcony for a while, in the late afternoon sun, reading. This is the view that we had from our balcony:
At about 6 o'clock we went down to the bar to partake of a couple more Grimbergens & to chat with people.
Dinner was a themed "Fish Night" – so it was Provençale Soupe de Poisson (fish soup), served with grated cheese, croutons and rouille, a slightly spicy, red mayonnaise. I haven't had fish soup for ages, and had forgotten how much I enjoy it! In fact, it was more "Shellfish Night" as the choices were Moules Marinière, or bulots (winkles). I like mussels, but shouldn't be having shellfish, as I have lowered immunity at the moment, and shellfish can be a source of problems. Happily, there was a non-fish choice, and I was happy to have duckling instead! A bit of cheese, and a chocolate éclair…Then, tisane, and "The Bridge" before bed!
On Wednesday, we left about 9.00 and drove home, pausing at one of our favourite places for lunch – Aix et TerraWhenever we go south, we try to schedule it so we can stop for lunch either on the way down, or the way back (or both!!)
It's both a factory, making delicious dips, and tartines, and spreads, and a restaurant, with dishes that showcase the products.
There was an amuse-bouche of black olive tapenade, and then we shared a starter of tartines and crostini. The tartine was a dried tomato paste with coppa, and the crostini was an artichoke spread with melted cheese. Then we both had a burger, served with carrot chutney, and the most delicious chips I think I've had in France!
Finally, I had a café gourmande – I have to say, if ever I see this on a menu I usually choose it, as it gives the opportuinity to try several desserts. This one came with a little salted caramel financier, a tiny lemon meringue tart, and a crème brulée au thé des 13 desserts (This tea blend is made with the flavours of the traditional Provençal 13 desserts, eaten on Christmas Day: dried fruits, nuts, marzipan etc) Delicious!
We got home just around 4 o'clock, charged with looking after our friend's dog, Marvin. Here he is being taken for a walk this morning