I was sent this book electronically, free of charge, by Netgalley, in return for an honest review. Here it is:
THE MAYFLOWER BRIDE, by Kimberley Woodhouse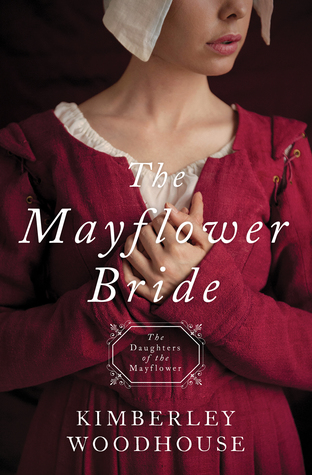 The description on NetGalley reads:
Can a religious separatist and an opportunistic spy make it in the New World?
A brand new series for fans of all things related to history, romance, adventure, faith, and family trees.
Mary Elizabeth Chapman boards the Speedwell in 1620 as a Separatist seeking a better life in the New World. William Lytton embarks on the Mayflower as a carpenter looking for opportunities to succeed—and he may have found one when a man from the Virginia Company offers William a hefty sum to keep a stealth eye on company interests in the new colony. The season is far too late for good sailing and storms rage, but reaching land is no better as food is scarce and the people are weak. Will Mary Elizabeth survive to face the spring planting and unknown natives? Will William be branded a traitor and expelled?
To be honest, I think the description makes the book sound more exciting than it actually is. But, having said that,I enjoyed the book, and found the story moved at a fairly rapid pace, which kept me interested. While I appreciate that the main focus of the story was the voyage itself, at times (rather like the pilgrims) I found myself wishing that they would land in the New World and get on with it! I found the characters were mostly believable and likeable: I think it was the less pleasant characters that I found to be less well described.
As a Christian myself, I didn't find the continued Bible references too annoying, but I imagine that if you were reading this as a non-believer both the Bible verses and the slightly "preachy" tone would become increasingly irritating.
This gets a solid 3 stars from me – I enjoyed it, I wanted to finish it, it held my interest – but I'm not sure I would want to read another book by the same author.