Hello dear readers – I'm sorry I didn't blog more while I was away, but a mixture of being busy, being tired, and slow wifi meant I couldn't be bothered. Sorry! That sounds rude, but isn't meant to be.
We had a lovely time, and I did quite a lot of things, but I have found that this time I've been more tired than expected.
So, I left you on Sunday evening…we'd been to the Provençal market in the morning:
a flower stall
a cheese stall
There were lots of fruit stands, selling the most delicious looking strawberries, of which we meant to buy some later in the stay, but sadly we forgot! Never mind… In the afternoon, Mr FD rode, and I stayed in the holiday village. I spent a happy hour painting this little picture of the view across to the sea:
Dinner was perfectly acceptable – it's not haute cuisine, by any means, but there's certainly plenty of food, which suited the cyclist and walking groups who were there this week. There was watercress soup, which was nice, and then I chose chicken in a cream sauce, with pasta and veggies. A bit of cheese, and a small portion of gateau. You can help yourself to as much as you wish, so you can imagine that the hungry cyclists certainly went back for seconds! After a short group meting and a tisane, we went back to our room to watch an episode of The Bridge.
On Monday, I decided to spend the whole day at the Botanical Gardens in Rayol, about 40 minutes drive from La Londe. I wanted to go by myself, so I could take my time, pause when I wanted to, and not have to worry about other people. I hada lovely day!
I arrived at about 10.30, and paid my 11€ entry fee. The view from the first terrace was a delight!
I sat there for a few minutes, basking inthe warm sunshine (despite being well covered!) and then wandered off through the gardens. There weren't a huge number of flowers out, but there were lots of greenery. It's a large area, divided into different gardens, with plants from different  areas of the world with arid/ dry/ Mediterranean climates. So there's a South American garden, an Australian garden, a Canary Islands garden…etc
I walked up to the Pergola, and then sat for about 30 minutes, finishing off a zentangle that I'd started a while back. I left it on the seat, weighted down by a pebble, with a note saying "If you'd like this drawing, then please take it…" I don't know if anyone did.
The view across the sea from where I was sitting was lovely too, so I spent a while just looking, and admiring. Then the wander continued, past flower beds
.
and wood anenomes
Down a shady path to discover a charmingly rustic building beside a waterfall
and then down towards the sea…
This was the view from the little terrace where I sat to read and to eat my lunch. There were seats, and a little house, which had originally been a fishing shack. With the waves lapping on the tiny beach, and the warmth of the sun, I felt quite soporific. The picnic had been provided by the holiday village – I'd already left the tub of lentil salad back in our room, as I hadn't fancied that, but the rest was OK : a roll, some dried ham, a piece of camembert (which had become very runny in the heat), a bag of crisps, a banana, a cereal bar and a couple of biscuits. After about an hour and a half I set off again to wend my way back upwards… pausng again and again to take in the views
At the top of the climb is this rather impressive house from the 1930s, due for renovation
and along to the North American garden with its impressive cacti
I sat just below this garden to paint another little picture of the view, which gave me another opportunity to rest
Time to head for home, so I slowly meandered back along the paths, taking a photo of this slightly odd plant:
I had a really enjoyable, relaxing day, and would recommend these beautiful gardens to anyone. It was particularly enjoyable because, early inthe season, there weren't that many people. I can imagine that in the height of summer with crowds of visitors, it might be less pleasant, but no less beautiful!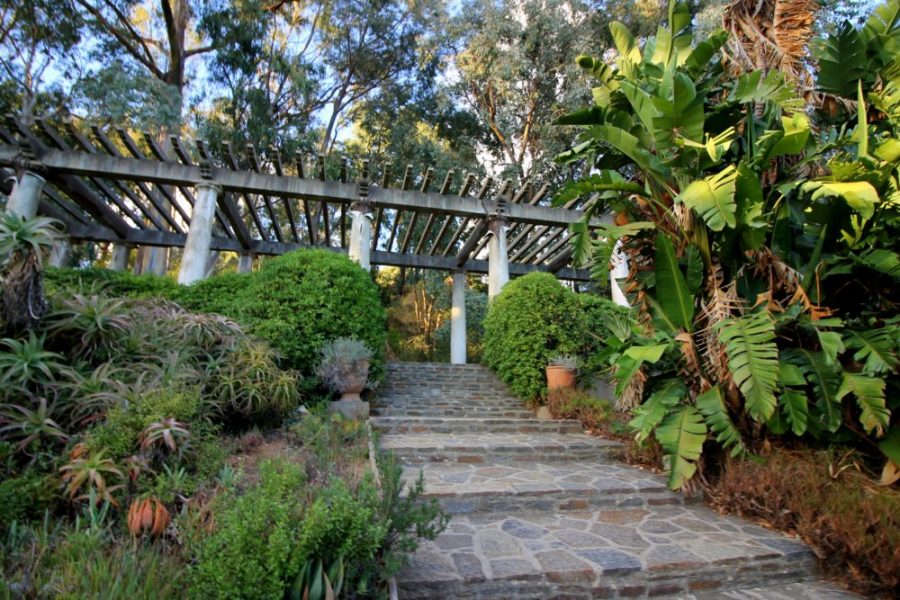 I got home, and, as the cyclists hadn't arrived, I went down to the bar for a gin-and-tonic. Then when Mr FD arrived, with some of the others I had a very nice Grimbergen "Printemps" beer.
Dinner was less impressive – it was "Italian" night (although I'm not sure any Italians would have agreed!) – vegetable soup (not even minestrone!), followed by a very mediocre Spaghetti Bolognaise, or cheese tortellini, or a seafood sauce to go with pasta. I didn't really enjoy anything that I had, sadly. The desserts were either a Tiramisu gateau, or a strawberry gateau – which actually tasted like trifle-as-a-cake! That was nice!
Another meeting, a tisane, and then back to the room to watch another episode of The Bridge, before bed. I was tired, but content, having done just under 3.5 km of walking around the gardens.
I think I'll tell you about Tuesday another time!