Today is my big sister's birthday.
My brother, sister and "the baby"
I won't say how old she is, but she's five years older than me, and a lot fitter than I am! She morris dances with her group in Leicester, Black Annis, and also plays the penny whistle for the group. Judy's playing in this clip.:
and apparently launching herself at someone in this photo: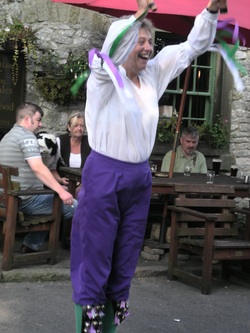 She also often goes walking with her friends all over the country. I always wanted to be like my Big Sister when I was younger: when she was out, I would sneak into her bedroom and pretend to "be" her (which sounds a bit creepy, and stalkerish!) I imagine I was just an annoying younger sister to her! I even used to sneak the odd cigarette out of her drawers, and hang out of her bedroom window smoking them. That didn't last long, however, as I was too scared of being caught!
A couple of things I remember –
I used to have a dolls' house which I adored. I think it had been hers originally. One Christmas, Judy spent time decorating the dolls' house for Christmas, with a tiny tree, and paper chains. She even bought a "Christmas pudding" cake from Sayers, so the dolls had a celebration lunch! Another Christmas tradition would be the writing and performing of some "pantomime" when all the relatives came for Christmas tea. Judy would write it, and we'd all (my brother, me, our second cousins – or maybe they were third cousins. I'm never quite sure of that relation! Definitely not cousins though – they were the children of my mum's cousins) rehearse before "entertaining" everyone after tea.
It was due to Judy too that the tradition started of Mum & Dad receiving a Christmas stocking as well. One Christmasmorning we awoke to our pillowcases full of goodies, and our parents had stockings attached to their bedroom door. I think I was, by then, wise to the fact that Santa Claus does not exist, so we all joined in the following year, buying little things for their stocking.
After university, she came back to Liverpool to work for a while – I would have been maybe 17, and she and her friend Mandy took me to Stratford to see "Measure for Measure" I remember being in the back of the car, and being a little bit shocked at the way the two of them sized up the men in the cars that overtook!! But I enjoyed being treated as the same as them – I was no longer the "little sister", but a young woman!
And for my 16th birthday I was allowed to have a party – with real boys! Judy and her then boyfriend, Andy, were left in charge (she'd have been 21) and my parents went out for the evening. That also made me feel very "grown up"!
I still do look up to her – she seems to have her life all sorted out, whereas I feel I kind of just drift along, rather aimlessly! She is intelligent, politically aware, kind and generous.
Happy birthday, Judy!