As regular readers will know, I have a little 1 km circuit around the village, that I have endeavoured to do every day – fatigue after chemo permitting. Although I had my last chemo on 7th June it took me until Saturday 16th before I could even face trying the walk. I shuffled round, stopping every 100 metres or so to catch my breath. Every day it has become a little easier, although I have still ended up breathless. Yesterday I paused at the bank to pay in a cheque, and the assistant was obviously very concerned that I was going to collapse all over his nice clean floor. I reassured him that I just needed a moment or two, but he still eyed me with suspicion.
Today I didn't have a stop for a sit-down – which is a first – and, although I was breathing heavily, it wasn't quite the "give me oxygen, I'm going to die!" way of breathing that had so concerned the bank employee. But maybe the reason I didn't need to stop was because I was pausing to take photographs to share with you. So, would you like to join me on my walk?
Say "goodbye" to Millie, who is sitting on yesterday's junk mail and eying us up balefully…
… leave the house, turn right and right again, and follow the snicket down the back of the church…
… cross the road, and go past the old Hotel Moderne. Sadly, not looking so "moderne" now! I imagine it would be wonderful if it could be renovated! In its heyday, St Just had over 20 hotels, as people would come from Roanne, and further afield, for the fresh mountain air. There was a sanitorium as well for those needing recovery from lung illnesses. Roanne is the nearest big town, and, of course, was heavily industrialised.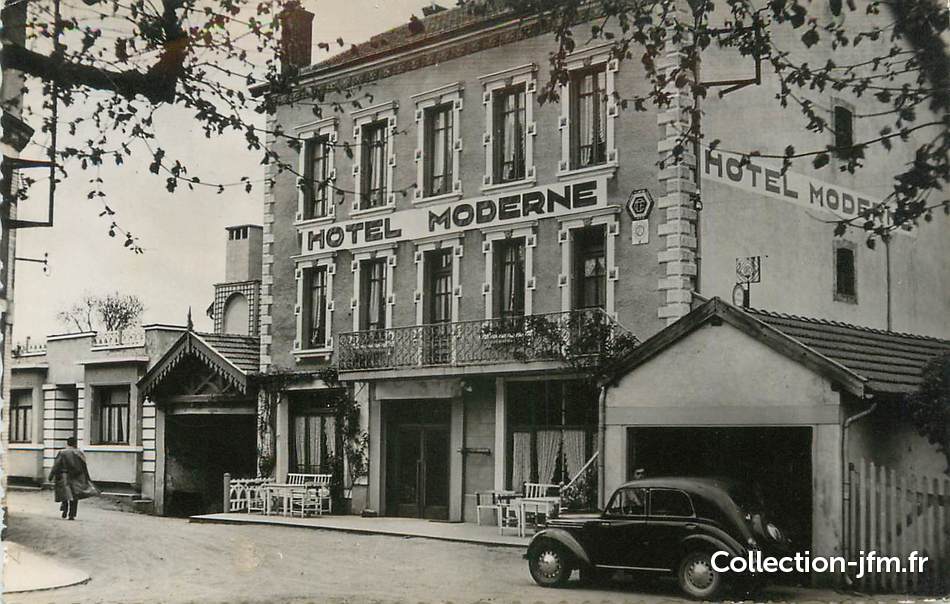 We continue down the road, and come to this cottage, which I have always liked the look of
There's often a friendly retriever pup in the front garden, who barks enthusiastically when people go past, but not today. I assume he's only put outside when his owners are out.
Not all the houses are old fashioned, however. Although St Just was at its busiest during the 20s and 30s, building work has continued to occur around the village. Opposite the cottage there used to be an orchard, with sheep grazing, chickens scurrying around and a large aviary of various fancy birds. However, about two years ago work started on a new Parish centre and, I think, a priest's house. I don't quite know the state of play priest-wise, in St Just, but I imagine that if there is a permanent priest based here, he will be in charge of several parishes. At least he has a nice modern house to live in, instead of a draughty old Presbytry!
We continue along this road, saying "bonjour" to a grandfather playing in goal to his grandson (I'm not sure why grandson wasn't in school. They haven't broken up for summer yet)  I would have taken a photo of their amazingly neat vegetable patch, but maybe that would have been a bit intrusive as they were playing football right next to it.
The road descends, and one of my favourite views opens up
I'm not sure if you can see it (click on the photo to biggify) but nestling in the trees in the mid ground is the Chateau de Contenson, one of four chateaux in the immediate surrounds. Here is a view of Contenson
The owners are the Rochetaillé family, after whom the square in front of our house is named. This chateau was built in the 1880s, but there has been a chateau of some form on this spot since the 1300s. During WW1 it was a hospital, and in WW2 sheltered resistance fighters. The current owners breed horses, and are very into their horse racing – there are two race courses not too far from here, at Vichy and Feurs.
You can't see it, but another of the chateaux in the area is in my photo. In the hills facing us are the ruins of the Chateau d'Urfé, which is a lovely place to take visitors, as you can see for miles from the top of the tower. But, anyway, on with our walk…
Another pleasant view of mountains, trees, green!! Well, we have had quite a lot of rain recently.
Turn right again at the junction, and start heading into the centre of the village again. From this road you can look over the "industrial" part of St Just
Here you can see a scierie or wood yard, plus the cheese factory and the velour (velvet) factory.
If you like pepper and garlic, it's worth seeing if you can find Gaperon cheese; this is one of our local cheeses, as is La Comtesse de Vichy, a triple-crème cheese o rival Brillat-Saverin.
The velour factory is, I believe,  the only remaining factory in France producing this material. It was constructed at the end of the 19th century, and still uses traditional techniques to create the fabric. In fact the velvet used in the Coronation robes of Elizabeth II was made here!
Turning around from this view, we can see the house of our good friends, Louis and Odette
Quite often, their dog Tim-Tim (a hunting spaniel, of some description) will bark at me as I walk past, but not today. They will often look after YoYo, their daughter's golden retrieber, as well, so there's quite a cachophony. But all was quiet today.
Continuing back along this road, there's another view of the church
and we go past the bench where I often have to sit to catch my breath to where there's one of the many crosses scattered around the area. I know France is/ was a Catholic country, but I'm often amazed at how many little crosses like this there are. I wonder why there are so many – are they relics of a time before the village expanded, and were placed at crossroads as wayside shrines, or waymarkers? This one seems too modern for that…
You can see my bench in the background of this picture, and as I sit there, I often get a whiff of a beautiful scent. I have no idea what it is, but today I tracked it down to this bush, which was humming with the noise of bees, busily collecting nectar.
Is it orange blossom? I am no botanist, but it smelt divine.
We turn right again, and the road rises a little. It is this part of the walk that often tires me out so much that I need another sit down at the top, but not today! At the top of the rise, heading into the centre of the village we come across the Mairie:
To help you get your bearings, the church is situated diagonally opposite the Mairie. The bench I usually collapse onto is just outside the door, beneath the flags.
On the wall of the Mairie is proudly displayed this stone plaque:
Between 1940 and 1944 numerous Jewish families found refuge in St Just en Chevalet and its environs.
Tracked and searched for by the occupying forces and the Vichy government they were saved, thanks to the goodness and courage of certain inhabitants.
The descendants of these families honour these citizens who, in full knowledge of the risk they were undertaking, welcomed and hid them, therefopre saving them from certain death.
One of the old neighbours of our friends was a member of one of these families, and told stories of how, when there were rumours of a rafle – a round-up – due to be carried out by the Nazis, the Jewish children who were being hoidden, would be spirited away into the surrounding woods and countryside.
Finally we reach the boulangerie, where I pause to buy a Petrisane, which is a type of baguette. The bakers makes two types, nature and graine (white, or granary) Both are very nice and at 1€ each, they won't break the bank. I'm not eating them at the moment, as my mouth is still a little sensitive, but I'll be back chewing on them soon!
In the picture you can see also pizza, sold by the slice, and petits quiches (two types: ham-and-cheese, or tuna-and-tomato) The lurid pink bun-like thing at the top of the counter is a brioche pralinée, another speciality of the area. Brioche is a sweet dough, and the praline is tooth-numbingly sweet as well. To the left of the till, there are mini-brioches pralinées, plus croissants, pains-au-chocolat and other sweet treats. I didn't photograph the cakes on offer, but there is always a good selection, using seasonal produce – so there are a lot of fraisiers, strawberry tarts, and fruit based gateaux during the summer months. I will sometimes buy one between us for a Sunday treat.
Then it's back home, to have a refreshing apple-and-elderflower juice drink. And have a sit-down!
I hope you enoyed joining me on my walk.