We have learned something today: Mr FD doesn't like cities in hot weather.
The forecast had been for a cooler day, so we dressed for this, but unfortunately it was 29° – which can feel even hotter in a city, with the heat radiating off the buildings. We'd had a "discussion" about whether to take a Segway tour of the city, but the final decision had been negative. So I wanted to take a free walking tour (having found the one we took in Budapest so good) Mr FD was less keen, but agreed. However, when we arrived at the meeting place, he was really desperate for a toilet (!) and couldn't find one, so he said for me to do the tour and he'd meet me later.
So I did. I really enjoyed a two-and-a-half hour walk through Turin's history, admiring buildings from Roman through to Baroque and even more modern…
Francesca, the tour guide, was very informative, and I chatted to a pleasant Englishwoman, Megan, on the walk round.
Francesca does her stuff
At the end of the tour I texted Mr FD to tell him where I was, and I sat with a citron pressé, resting my feet and enjoying the shade of the arcades. Unfortunately, due to a misunderstanding, he couldn't find me, and was getting increasingly fed up, and feeling queasy after a large custard bun consumed at breakfast time. I suspect he was dehydrated too. After a flurry of bad tempered texts we managed to meet up, and he said he wanted to go back to the B&B. So, after a bit of discussion, it was decided he'd go back, and I'd stay in Turin, then get the train to Moncalieri, and text him from the station. So that's what we did.
I did the walking tour backwards, stopping to look at places we'd not had time to properly explore on the whistlestop tour, such as the Cathedral and the roman area. I didn't get to see the Turin shroud, as it only gets displayed once every five years – and anyway, I'm not too interested. I don't believe it is the Shroud of Christ, and so don't see it as particularly worth seeing.
I had a few problems buying my rail ticket back to Moncalieri – first because my card wouldn't work in the machine, and secondly, I ended up buying two tickets because a smelly, dirty old man insisted on "helping" me at the ticket machine that took cash, and he pressed the buttons for me so I ended up buying two tickets. Happily, they weren't very expensive (2€30 each) so I didn't lose too much money, but I was most unimpressed by him then asking me to give him money for helping me! I'm afraid I said some rude words. It was a bit confusing finding where I had to take the train from, but with real help from a railway employee I got there okay.
Mr FD picked me up, still not his usual cheery self, and said it wasn't worth going back to the farm, as Nicola had had a large lunch party for an association he worked with, and there would be chaos if we met people driving down the narrow road. So we went to the historic centre of Moncaleri again. We had a rehydrating drink first (Mr FD cheered up a little), then a refreshing beer, with some snacks (Mr FD cheered up more – he hadn't had lunch, due to feeling sick, so some grumpiness was probably attributable to hunger too), and then we went to a restaurant where I had a burger, with avocado salsa and chips, and Mr FD had a pizza. With further refreshing and rehydrating drinks, Mr FD was smiling again by the end of the evening. He did want to leave early, so we informed Nicola of that when we got back, and packed the car.
Taking Nicola up on his offer, we sat outside in the warm evening with a glass of local wine, watching the lights of Turin and its suburbs twinkling.An early-ish night, and an early get up at 6.00 am, meant we were back home by 11.45, just in time to have bacon sandwiches for lunch!
Although Mr FD didn't enjoy the last two days much, I did, and all in all, we'd say that the Piedmont area of Italy has much to offer. I'd recommend both the places we stayed, although the second was very simple. Mind you, it was also extremely cheap – 26€ a night for us both, with 8€ for the copious breakfast. But beware the chocolate covered custard bun – it might not suit your stomach!!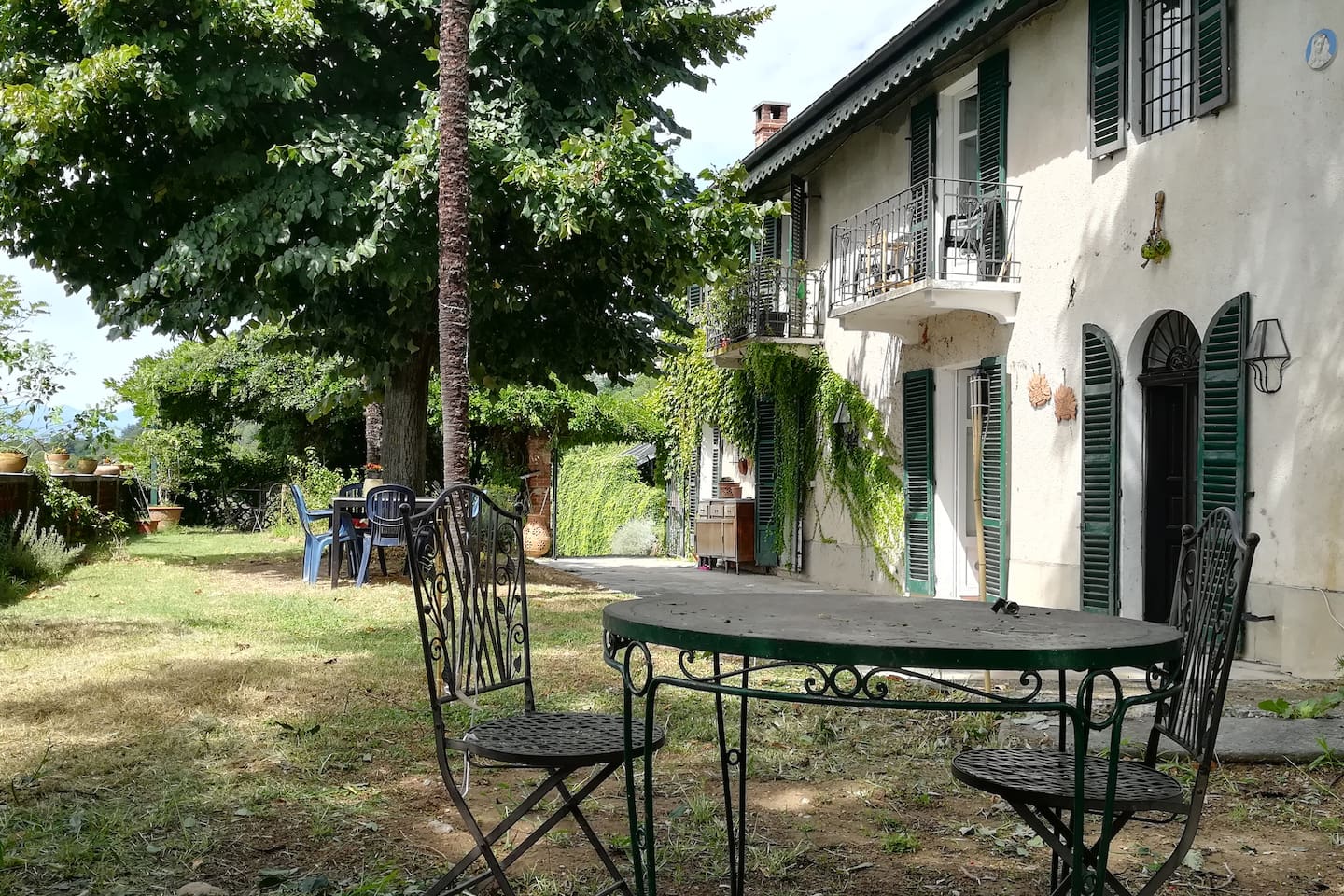 When we got home I felt really relaxed and recuperated…although during the week I had walked an awful long way. My pedometer isn't terribly accurate, but it is telling me I walked approximately 70 km during the week. Not bad for an unfitty like me!
And the next day, my mum and sister arrived!