I have worked for ILS for 9 years now. I remember my first meeting with M. Khodri, the director – previously I'd been working in St Etienne, at Wall Street Institute, and although I liked the people, it was a long way to travel (taking about 1.5 hours to get from door to door) and I wasn't very keen on the method of teaching employed by the company. So one day, I took a few CVs and letters of motivation to Clermont Ferrand and decided to trawl round the language schools there. I called in at WSI, and had a slightly bizarre interview with them (they turned me down) and then I called in at ILS. M.Khodri saw me immediately and sat me down in his office for a chat – my French being even worse than it is now, and his English being practically non-existent, it may have been a little awkward at times, but after about half an hour he offered me a job with the company!
I was very happy teaching there – mostly in-company, but sometimes at the offices of ILS – and the majority of the work done was for Michelin, which is one of the biggest employers in Clermont. It was also the golden goose for ILS, with, I'd say, at least 85% of the English teaching work being done in partnership with Michelin. Unfortunately, with money-saving becoming more important, and technology becoming more prevalent, Michelin decided to move over to e-learning, which meant that ILS, who had put all their eggs into the Michelin basket, was a bit stymied.
For a few months, in 2012, it looked as though ILS might be going down the pan, and sadly this meant that 6 or 7 of the English teachers had to be made redundant. I was one of them. I remember that M. Khodri was so distressed at having to make me redundant, that he said to me that anytime I wanted to come into the office to use the resources, or to use one of the rooms for private telephone lessons, or to make photocopies for my private lessons, then I was welcome to do so!He was always very supportive, and so even when I wasn't working for them, I still popped into the office from time to time.
Happily, the company survived, and I, plus most of the other teachers, were re-employed, but as "auto entrepreneurs" – that is, we are self employed and on a contract basis. It means ILS do not have to pay any of our social charges etc. Not so good for us (no sick pay etc) but better for them. I'm still happy to work for the company, however, as it is a real family company. We know each other, we support each other; the Head of English is a really lovely woman, the staff are friendly, the resources are plentiful. Even though we are not "salariés" – directly employed – we are considered as part of the team, rather than as sub-contractors, so our relationship with M.Khodri, and the other admin staff, is exactly the same. When I've got myself in a mess with French admin papers, M. Khodri has always been willing to spend time with me, helping me to complete the forms and calming me down.  And, most importantly, there is quite a lot of work!
Recently, M. Khodri decided to sell the company and retire, together with his wife, who is the accountant for the company. I have only met the new owners very briefly, but Claire, Head of English, assures us that they are dynamic, and forward thinking, and want to move the company onwards and upwards. As you can see from the photo of the offices above, it is looking a tad tired and old fashioned, and Melissa and Thomas want to modernise. I'm a little concerned, as I have to admit that I don't take to change very well – especially if that change requires me to learn new technology & new ways of doing things that I've been perfectly comfortable doing "my" way for a while – but I'm going to try hard to embrace this. After all, I won't have a lot of choice in the matter!!
So, on Friday, it was Monsieur and Madame Khodri's retirement do. It was in the restaurant in Le Jardin Lecoq, in Clermont Ferrand, a lovely public garden not too far from the office.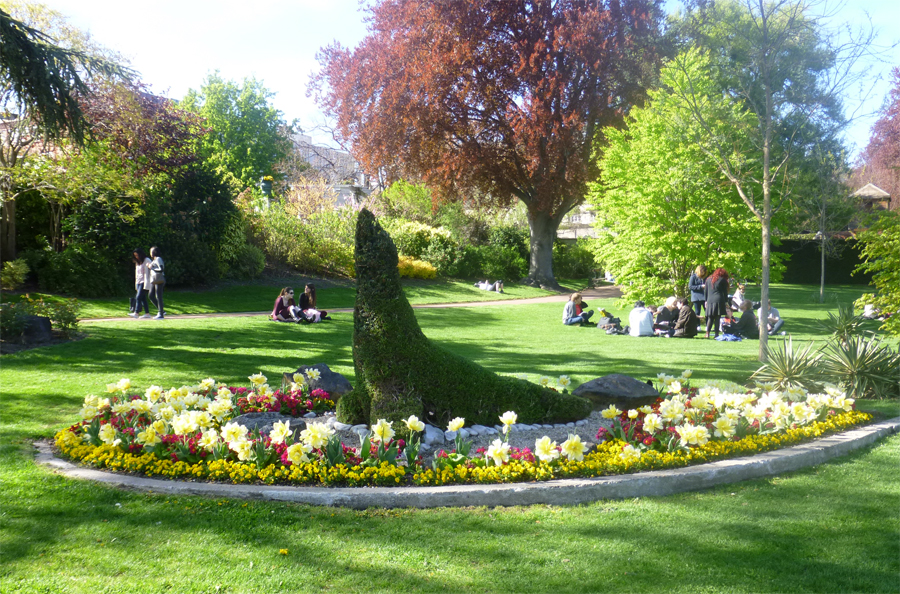 I booked into the Holiday Inn, just across the road from the park, as I didn't want to drive afterwards, and I didn't know how tired I would be. I'm happy I did so, as it meant I could have something to drink, and I didn't need to leave too early.
We gathered at 7.30, and stood around chatting, and at about 8.00, we were led to our tables, all set up outside. There was a four piece jazz band who entertained us
and it was good to catch up with some people I hadn't seen since Christmas. We started with a glass of fizzies (I had some sirop in mine to sweeten it, so I could enjoy it) and we gave M & Mme Khodri their gifts: a voucher for a dinner in a very good restaurant, and a cave à vins – a temperature controlled cupboard to keep your wine in – plus some starter bottles. Note we didn't actiually give them the cave à vins: Yacine, their son, who works for the company as well, had set it up in their house so it would be a surprise for them when they got home.
M. Khodri made a little speech and then we got on with the food!
Unwrapping their presents
We started with an amuse-bouche, (a little something to tickle your taste buds) which was a verrine of something – noone was quite sure what it was, but the general consensus was finally a cold pea-and-mint soup; it was okay, but as I'm not a great fan of peas, or cold soup, I couldn't get too enthusiastic about it. Here's the empty verrine, as I forgot to take a photo before I ate it! :
Then the starter arrived – a galette with roast vegetables and mozzarella, and salad in a lovely honey vinaigrette dressing
I remembered to take a photo halfway through!
A pause, while the jazz band played on, and then the main course was brought out:
I remembered to take a photo before I started eating!
This was delicious – white fish, chorizo and a scallop in a buttery sauce, served with polenta, roast tomatoes and a giant crisp thing. I'm not sure why the crispy thing was there, as it didn't really add much to the meal, but it tasted fine! I'm glad I'm not vegetarian though, as their meal was peas-and-asparagus, roast tomatoes and potatoes. Not very inspired – as vegetarian meals in France so often aren't!
Dessert was profiteroles – I couldn't finish mine…which is unlike me. I'm thinking that the intake of my stomach has shrunk a little during chemo, as I've not been eating the same amounts. Perhaps I need to encourage this!
Claire, Head of English, clapping along to "Ain't Misbehavin' " We both started singing the lyrics soon afterwards!
M. Khodri boogeying on down with Alyssia, one of the English teachers.
And still the band played on… as it was getting on to 11 o'clock, and I was flagging, I decided to leave. Also, there were others going at that point, and as I didn't know where the gate was, and didn't want to be wandering the park in the dark, I tagged along with them.
It was a really good way to say "Goodbye" to a very kind (sometimes slightly incompetent!) employer. Thank you, M. Khodri, for the opportunity to work with ILS, and here's wishing you a good and happy retirement.