A Chateau Fort is the French word for what we'd probably call a castle – not one of your poncy chateaux with fancy turrets and posh staircases like this one:
While we have a couple of those in the area, they're not open to the public (unless you go Air bnb!) But we do have the ruins of a good old Chateau Fort – Le Chateau des Cornes d'Urfé
This was the "cradle" of the Urfé family, who ruled this corner of the Loire departement – but of course the departement didn't exist then! Anne d'Urfé – a bloke – was one of the first Seigneurs, and his heart is interred in the little chapel here in St Just. Honoré d'Urfé wrote what is considered to be one of the first novels, a story called "Astrée", after which our street is named. Later on, the family owned a more Chateau-y Chateau, Le Bastie d'Urfé, on the plain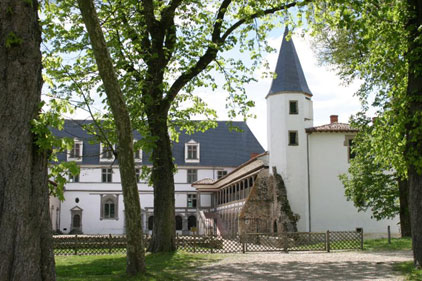 but at the beginning the Chateau des Cornes d'Urfé was their home. It was remarkably well situated to view the Chateau in St Just itself, and that in Champoly, about 10 km away And – of course – it dominated the valley in the mountains, probably making it ideal to demand tolls from those passing, as well as keeping an eye on any aggressive movement of men from either of the neighbours!
I visited with my friend, Jane, while she was here.
This is the view from the tower, looking towards St Just. As you can see the chateau is now in ruins, and while volunteers come every summer to help to restore the building, they can only do so much. We were amused that the only nod to health and safety was a notice saying "Soyez Prudent" (Be careful) – climbing the steps inside the tower was not for the faint hearted: unlit, uneven, steep, low-ceilinged and no handrail of any description (until the final 10 steps when there was a rope to hang onto!) I'm sure in the UK it wouldn't have been allowed!
After admiring the view we strolled around the bottom of the Chateau
We used to bring visitors here all the time, but I hadn't been for ages. It was a pleasure to come back – especially on such a nice day. It wasn't very clear however, but on a really clear day you can see Mont Blanc in one direction and Puy de Dome in the other.