…it's M&S tat.
I'm not joining in with no-plastic July, although I am starting to try to introduce small changes into our shopping habits, such as reusing plastic bags for fruit & veg, or using other plastic bags (like bread bags) or – when I remember them! – using muslin bags. But when I do have plastic I try to
1) recognise that it's necessary
2) try to reuse in some way. (Though it was depressing when I asked the café to remove the straw from my drink – and they did. And put it straight in the bin! I hadn't realised they would give me a straw (in a glass of iced water) so I didn't think to say "No straw, thank you")
When I read Ang's blog post about Marks & Spencer introducing a promotion called "Little Shop", I was more than a bit ticked off. Ang's post explains it better than I can.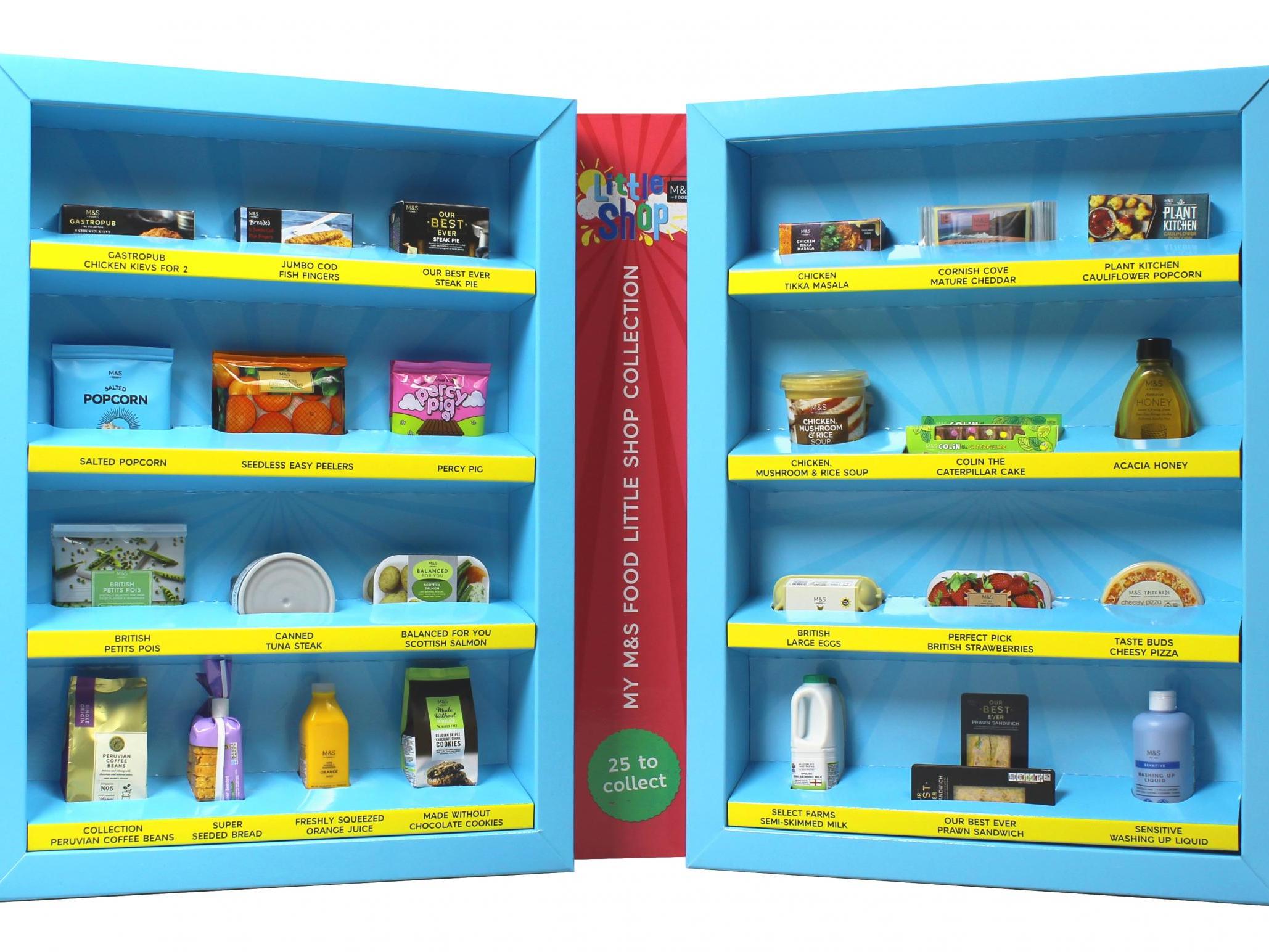 So I went onto their website, and after trying to find a comment form (they don't make it very easy!) I finally found where I could email them. So I did:
Dear M&S
I would like to join in the chorus of voices that condemn your promotion "Little Shop…" In the midst of No-plastic July (when it is proving difficult to find things that don't involve plastic in its packaging!) you start a promotion that introduces yet more unwanted and unnecessary plastic into the environment!
It doesn't matter if this is proving to be a popular poromotion in-store – at some point, these plastic items will be thrown away. You say that they can be returned to be recycled – that's something, but, realistically, how many people will bother to do this? When children have finished playing with these bits of plastic, they will – for the most part – just get dumped into landfill.
It doesn't matter that those toys that are returned will get recycled into benches – it's still plastic. Plastic that doesn't decompose for hundreds of years. The plastic bench will, eventually, get thrown away, and won't decompose…Just because it's recycled plastic doesn't mean that it magically decomposes when finished with!
This is an UNNECESSARY promotion – it does nothing (despite your claims) that those parents who care about such things can't do already. It won't encourage other parents to teach their children about sustainibility; it will just teach children to want more unnecessary tat.
I fear that, despite your claims about sustainibility and care for the environment, you are just doing your bit to add to the problem of the human race using and discarding our natural resources as if they were never-ending. I, for one, will not be buying from M&S until this horrid, unnecessary promotion is finished. And even then, I will be reconsidering whether M&S values are my values, and whether I wish to continue supporting your company.
They needn't know that, as I live in France, I don't shop in M&S very often anyway, and won't be buying anything there before the promotion is finished! But even oif I did live in the UK, I would be thinking hard about supporting them.
How do you feel about this promotion? If you think it's a poor idea I encourage you to contact M&S head office. When I get a reply I'll update this post.
UPDATE: I received an email from M&S yesterday (Tuesday). Disappointingly bland, it must be said:
Hi Alison
I'm sorry to hear you are disappointed with the way we are branching the Little Shop Promotion. I appreciate you bringing this to our attention, thank you for letting us know.
We want as many of our customers as possible to collect all 25 Little Shop collectables and we'll be running additional promotions and events to help them along the way. For example, we're hosting over 70 swap events at our M&S Cafés across the country for customers who have duplicates or certain collectables missing.
At M&S, we're committed to reducing our use of plastic packaging and reusing or recycling any we do use. Our Little Shop collectables have all been designed to last and we've worked hard to ensure around a quarter of them are made from FSC (Forestry Stewardship Council) certified card where possible. We've also ensured all single-use packaging is made from paper instead of plastic.
Little Shop is a free promotion for every £20 spent on food and drink in our stores. It's designed to create excitement for families during the summer and helps children to learn a little bit more about food and where it comes from. However, there is no obligation for customers to collect Little Shop or take their redeemed collectable if they don't wish to do so.
We really do monitor any feedback we receive very closely with the aim of improving, so thank you for sharing this with us.
Kind Regards
A. C.
Retail Customer Services
Quite frankly this response does not answer my questions, but what I dislike more is that it was so obviously a cut-and-paste job, with the first part (shown in italics) in a completely different font to the rest of the email! I don't want to have more promotional bumpf thrown at me about swaps and so on. I don't believe their promise that they moniotor all feedback, and I don't like the construction of the first sentence. "to branch" is not a verb, and so M&S can't be branching the promotion. Grrr.