So yesterday I lost an entire post. It was very irritating. Of course, it was well-written, lyrically beautiful in its prose and achingly poignant. You would have loved it.
Well, actually, no. It was just a post about what we've been eating and plan to eat this week. Let's try again! As I have said, I'm not very good at remembering to take photos of the food I cook, so any photos on here are from t'internet.
On Thursday & Friday last week I was in Paris. I'm afraid that I didn't really stick to my Slimming World plan – when there are delicious nibbles like steamed dumplings,chicken saté sticks, and other gorgeous delicacies I can't hold back. The wine was good too. Then, on Friday I "just happened" to pass a Marks & Spencer food hall, so I went in (It would have been rude not to) and was tempted off the straight and narrow. I bought three boxes of mince pies (now stashed in the freezer), some stilton, some white stilton with cranberries and some halloumi cheese, three bags of snacks, a packet of crumpets, an Indian meal for two, a bag of frozen onion rings (to act as an ice back for the chilled goods), and a Meal Deal lunch (a chicken-and-chorizo sandwich, a bag of crisps and a drink) Hey ho.
So..on Friday evening we ate (and enjoyed) the Indian meal – Chicken Jalfrezi, Butter chicken, pilau rice and naan bread, with a beer on the side. Miam-miam! And then a crumpet & golden syrup to finish it off!
Saturday: Breakfast: 0% fat natural yoghurt and stewed apple. I also always have a smallish glass of orange or grapefruit juice (100 ml juice mixed with about 150 ml water) and a coffee with a splash of milk. So I haven't mentioned these in the "breakfast" sections.
Lunch: Oh dear. We went to a restaurant to celebrate Friend Richard's birthday, so I'm afraid I slipped again. Two kirs, a couple of glasses of wine, then a salad with a cheesy fritter type thing, Chinese 5-Spice salmon & rice, cheese and then raspberry pudding.
Dinner: Soup and bread.
Sunday: Breakfast: Egg on toast
Lunch: Soup and cheese sandwich. Crumpet.
Dinner: Sausage, potato wedges, baked beans, onion rings.
Monday: Breakfast: Yoghurt & fruit
Lunch: Soup and cheese sandwich.
Dinner:Spiced yoghurt lamb, and chargrilled Mediterranean vegetables in a tortilla wrap. Crumpet.

Tuesday: Breakfast: Fruit/yoghurt
Lunch: Grated cheese (tiny bit) and salad wrap. Apple.
Dinner: Mediterranean vegetables (again!) with spiced couscous and halloumi cheese.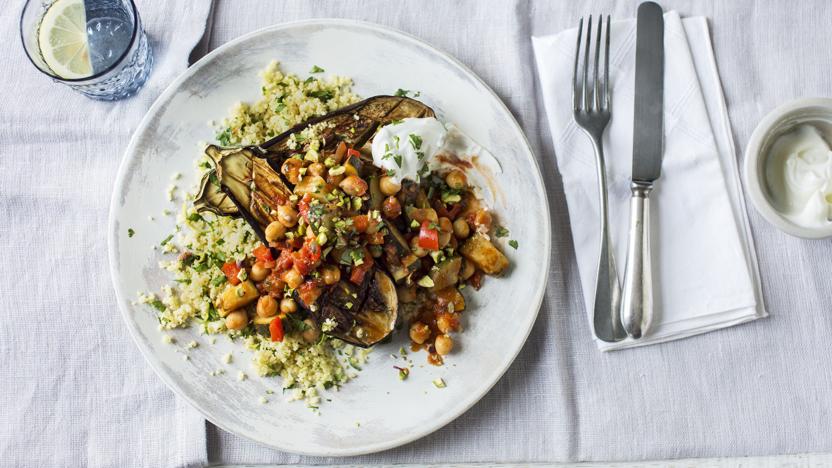 Wednesday: Breakfast Porridge with 1 desertspoon golden syrup.
Lunch: Leftovers from last night,with some white stilton crumbled over, yoghurt, apple
Dinner: Turkey escalopes in a tomato/vegetable sauce, pasta.
Thursday: Breakfast: 0% fromage frais, fruit
Lunch: Spicy salmon with vegetables & pasta, salad, ryvita.
Dinner: Imam Biyaldi – which, if I'm honest, was a grave disappointment. It was really rather bland, and the Imam might have fainted with pleasure when he tasted it, but we certainly didn't. Very "meh". To be fair to the recipe writer I've linked to, I didn't use exactly her recipe: mine had less garlic, and different spices in.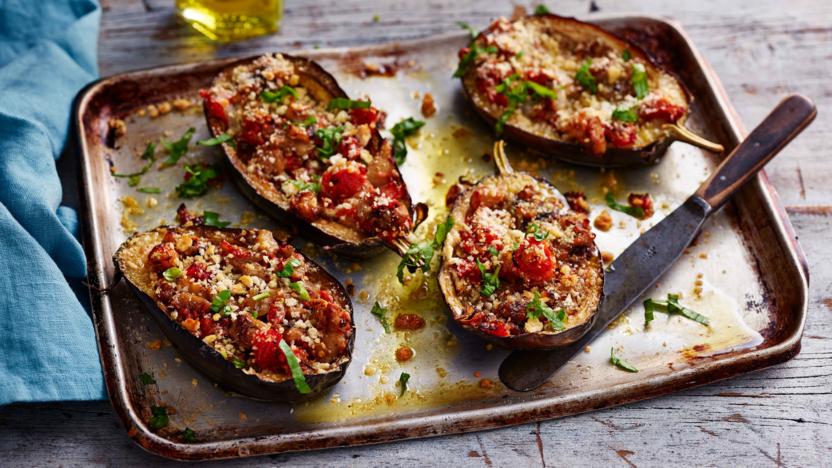 Friday: Breakfast: "Bacon" sandwich (one slice of bread) The French don't really do back bacon in the same way as the UK, but I bought some of this, which gently heated in a frying pan gives the illusion of bacon!
Lunch: As yesterday.
Dinner: A stuffed pepper, filled with the same filling as yesterday, plus cauliflower cheese, made with my Lidl Contre-le-gaspillage cauliflower last week. I may cook some lardons too, to add a bit of flavour to the proceedings!
Saturday: Breakfast: Fruit & fromage frais
Lunch: Smoked salmon paté – I have some smoked salmon in the freezer that I bought 50% off, so I'll use that, plus some 0%fat cream cheese. I have tried to use a lot of freezer provisions this week, as I went a bit mad in M&S, so needed to reduce this week's shopping bill!! I'll also be making a vegetable soup to use up all the wrinkly bits and bobs at the bottom of the fridge!
Dinner: Meatballs (mince in freezer), with a tomato/pepper sauce, pasta and vegetables.
I'm keeping very quiet about the bottle of red wine that I opened on Tuesday, and am working my way through!!
I think the main thing is that we haven't bought biscuits, and so there has been much less snacking going on!
I know these posts aren't to everyone's tastes, so I'll only do one a week…And maybe not even that if I forget! Off to take some home made scones to Friend M across the way, who has return,ed home after a longish stay in hospital….I did test the little off-cut scone that used up the leftover dough. It was only tiny….