Hello everyone!
I am at last taking a breath and pausing, after a fabulous week in Italy and then a week with my mum and sister staying. It has been lovely, but I haven't really stopped, so ended up feeling really tired! Today is a day of not doing much at all, and then I need to start thinking about going bacxk to work. After a gap of 9 months it's going to be quite difficult, although I am definitely looking forward to it!
I'll spread out my posts about our holiday… I won't overwhelm you with everything in one post!
So we wet off on Sunday morning, after a panic filled Saturday evening – I discvered that my European Health card was out of date, and I couldn't get onto the site to renew it, for many and various reasons. Mr FD was quietly frustrated with me, but we finally decided that we'd take the chance that nothing terrible would happen that required medical attention – and if it did, well, the lack of card would just mean we'd have to pay up front and get reimbursed later. Happily, it was not necessary!!
We decided that we wouldn't take the Fréjus tunnel, but rather drive over the mountains between France and Italy
This is the Col between France and Italy where we paused to eat our lunch, before descending a very winding road into Italy.
We arrived at our B&B around 17h30, having stopped off for a beer in Omegna, a village at the lakeside.
Mr FD standing on the bridge in Omegna
The B&B was very nice, but there was a problem: there was parking for 2 small cars, and 3 bedrooms**. Our car is not small, and we were "the last in", as it were, so the spaces were already "reserved".  The public car parking, according to the owners, is 300m away…but they neglect to say that it is 300m up a hill, AND there's another 200 m up to the house! That first evening Mr FD drove up to the public car park, and got caught in a torrential down pour! He was not a happy bunny, and was adament that I would struggle to walk up to it every day.
So, we (I'm a tad ashamed to say) played the "cancer card" – we explained to Dario, the owner, that, in my state of recovery, I couldn't walk up to the car park every day, so if there was no other parking available, we were very sorry but we'd have to cancel the rest of the booking, and find another place to stay. Very quickly, a solution was found, and we were able to use their parking place for the duration of the stay! I'd certainly recommend the B&B to anyone thinking of going to Lake Orta – you would ned a car, as it's a few kilometres above the lake, but it was very pleasant, and Dario and Ciara, the owners, were very accommodating. He explained to me that they are planning on improving the parking situation this autumn.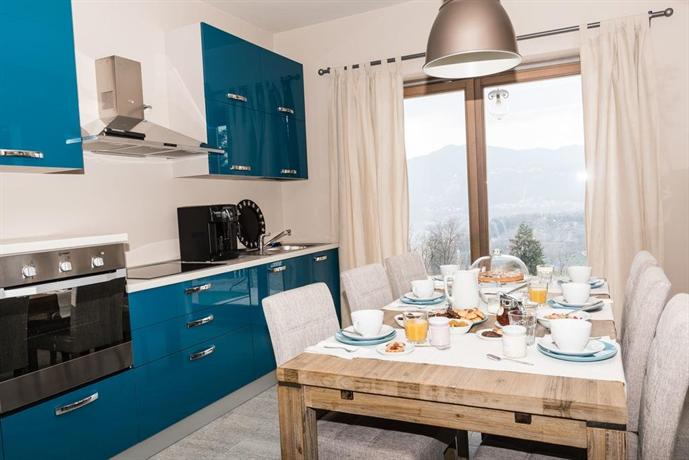 It wasn't the most "typical" place, being a modern house, but it was very comfortable, and the breakfasts were fab!
Our room
We were directed to an excellent restaurant for dinner, just up the road, where we ate very well. The Taverna Antico Agnello. I had a delicious tomato soup, with garlic bread, followed by home made tagliatelli with a rabbit ragout, and then pannacotta. When we arrived it was lashing down with rain, and when we left it was dark, so we didn't get much chance to look at the splendid building that the restaurant was in, but here is Trip Advisor's photo:
Despite the thunderstorm and parking problem, it was an auspicious start to our holiday. I was already feeling more relaxed!
** ETA – that sentence is badly written, sounding as though there was car parking space for not only two small cars, but also for three bedrooms!! What it means is, of course, that despite the fact there wre three bedrooms in the B&B, there was parking provided for just two cars, and small ones at that.