Well, the World Cup is over, football's not coming home, and France has won.
I'm not a football watcher – although I did sit through a few matches this year, mostly while inspecting FB, or snoozing! – but Mr FD is. Amusingly, having told me that "there are only a few matches I'm interested in" he proceeded to watch practically all of them. Of course, the England matches were accompanied by cries of both joy and anguish, and not a few rude words.
I didn't watch the final, as I was cooking dinner (Hairy Dieters' Thai Prawn Curry, with loads of veggies), but, although I live in France, I had a sneaking wish for Croatia to win, as I always support the underdog. And while Croatia are a good team, I think they were seen as being inferior to France.
Well, it was easy to tell that France had won, from the noise coming from the Capricorne bar opposite. Cheers, horns, shouting, singing….Fairly obviously quite a lot of liquid refreshment had been taken! Then the yoofs on their tiny 10CC(or whatever) motorbikes started buzzing up and down the road, making sounds like frustrated hornets and tooting their horns. This went on for quite a while.
It was a pleasure watching Macron, the President of France, and Kolinda Grabar-Kitarović, president of Croatia, greet the players – big hugs of commisseration for the second place Croatians, with tears being shed by all. Encouraging words were spoken, and sincere handshakes given, as the rain poured down.
But most of all, I love the enthusiasm shown by Macron as the final whistle was blown – not standing up, not standing on his seat, but leaping onto the desk in front of him!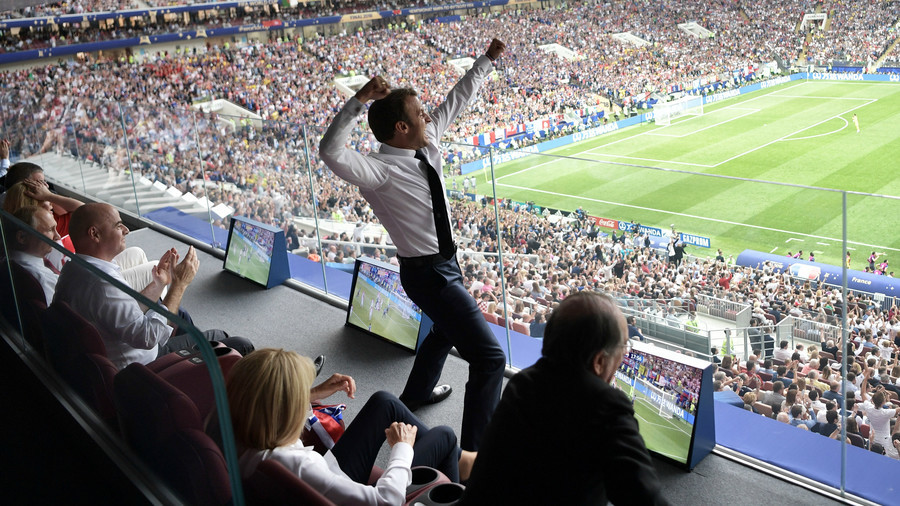 I think he was a bit pleased!