Monique from across the road has just popped in with a little present for me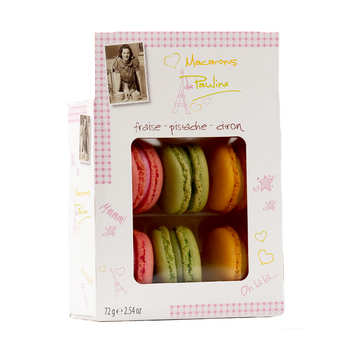 a box of 6 macarons, strawberry, pistachio, and lemon, two of each flavour. "Just because", she said.  How kind!
I went to Charlotte's exhibition of illustrated poems from her writing group yesterday evening – she invited me to the "opening" get together. Friend Cathy was going to come with me, but had an emergency with the battery for the electrics in her caravan; Mr FD was going to come with me, but he'd just got his new bike, and wanted to tinker with it. So I went by myself. I read the poems (needed Google Translate from time to time!) and chose my favourite few. I was introduced to various of Charlotte's friends, and we all agreed she was a lovely, vibrant person. I took two sips of Cremant de Bourgogne (which tasted horrid) and then abandoned my glass. Then I went home again.
It was quite nice just being out by myself. I'm not sure I'll make it to Church tomorrow though, but I am going to Clermont on Tuesday, to catch up with friends & colleagues at ILS. I might do a bit of unnecessary shopping too!