I was very busy last Wednesday writing scheduled posts, as I thought I'd be wiped out until at least Tuesday of next week. However, this dose of chemo has affected me differently – I guess the leg pains will start in earnest tomorrow, which I think was the pattern last time, but at least I have a better idea about how to manage them this time round. On Friday, I stayed in bed until after lunch, and then got up; I watched TV most of the afternoon, but I did go for a tiny stroll. Then yesterday, (I'm writing this on Sunday, but scheduling it to publish tomorrow, Monday) I felt great – I'd slept well on Friday night, so I felt up to accepting the invitation of Friend Richard to go to watch the Royal Wedding at his place, together with Friend Cathy. Mr FD turned down the invitation, preferring to stay at home to watch the Giro d'Italia, the rugby, and the FA Cup Final.
I'm not a Monarchist, but nor am I a Republican. I think the role of the Monarchy needs to change – and I think, very slowly, it is – but I think that generally the Royal family probably bring in revenue to the country. I don't really know much about it though. Whether the reported £ 30 million  spent on security for this wedding should have come from the tax payers' pockets I don't know – but presumably, for other public events (concerts, FA Cup Finals etc) the public purse pays, so why not for this.
ANYWAY – I probably wouldn't have bothered to watch it had I been at home by myself, but with a couple of friends, it seemed like a fun idea. So, in the morning, I made an elderflower cordial and lemon cake, just like Meghan and Harry's wedding cake.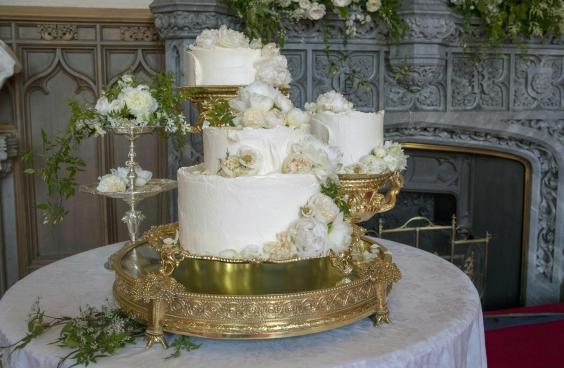 I bet you can't guess which one I made!
Apparently it was delicious – I couldn't taste it – and so I will be making it again when my taste returns. If you should be interested, I used this very easy recipe.
Friend Cathy picked me up, and we drove over to Richard's where he had the Union flag flying outside! We had both chosen to wear patriotic clothes – I had my red trousers, white shirt and blue tunic top, and Cathy had a white skirt, red T-shirt and blue cardigan! While I was tying my blue turban/scarf round my head, I suddenly remembered I had a Union flag scarf, which I had bought for Summer School last year. I'd thought about either wearing it, or pinning it up in the classroom. Finally, I did neither, as we decided it seemed a bit "National Frontish" , but it seemed like the perfect thing to wear today!
Richard has an enormous TV, so it was a bit like being in the cinema! While he plied us with delicious nibbles – vegetarian Nems (spring rolls) and little vegetarian "sliders" (I believe they're called) – we watched the guests arriving, and critiqued the outfits.
As the service started we had a cheese-and-tomato toasted sandwich. I enjoyed the service very much – Richard, a confirmed atheist, disappeared into the kitchen until Michael Curry had finished his address.
I think Bishop Michael is an inspiring speaker, and I could listen to him preaching quite happily – however I felt this address was maybe just a few minutes too long. It was, however, a great message, and I think it fitted the mood of the service very well. It was a bit tricky guaging the reaction of Her Maj, however – she did rather look as though she was sucking on a lemon some of the time!
As the married couple drove around Windsor, waving at the plebs, we enjoyed the cake, with strawberries (I can still just taste strawberries!) and then, as I was starting to flag a little, Cathy drove me home.
Here we are in our patriotically coloured outfits.
Mr FD was firmly ensconsed in front of his sporting events, so I sat and snoozed, and stroked cats. With pizza for dinner, and some recorded comedy programmes that rounded off a good day.  I was in bed by 10.30 and went to sleep about 11.30. Unfortunately there was quite a bit of cat action, with Bib giving me quite a nasty nip, so I was awake from about 4.00 am through to 6.30, listening to Kermode & Mayo's film review – very soothing voices, which sent me to sleep.
And now, I'm up again, and trying to keep moving (although with the fatigue it does take it out of me ) because all advice seems to be that the more one moves around, the better it is for the neuropathy, as the movement gets the blood pumping to the very ends of the nervous system.