This has been a tricky week – although I felt really perky on Friday, which is unusual for the day after chemo, it all went downhill after that! I was hopeful for a quick recovery, when I was awake for most of Friday, and even got up for a couple of hours, but Saturday, Sunday, Monday, Tuesday, and even Wednesday turned out to be more difficult! The metallic taste in my mouth was much more prevalent, which made me feel mildly sick a lot of the time, although I am still enjoying my food, as long as it had strong flavours: Marmite to the fore! I felt really fatigued and breathless even after a teeny-tiny bit of effort, and my eyes have also felt dry and tired too – perhaps it's because the chemo affects the mucous membranes, which is why my mouth is dry and has the horrid taste, and my tongue feels a bit weird too. I might ask the pharmacy for some eye drops. On Monday, Tuesday and Wednesday I've managed short walks, but have required sit-downs during them. The fresh air has helped though.
I've not slept too well either – this might be in part due to the fact we've been watching "The Bridge" on the i-player. It's a great scandi-noir thriller series, but there have been a lot of murders in it, which has affected my dreams! Also at one point I dreamt that Mr FD was applying for jobs with his CV badly typed on yellow paper, and mentioning "working with dodgy men in vests"!! He is applying forjobs (no luck so far) but he assures me that it isn't on yellow paper and doesn't mention men in vests.(That's UK vests, not US vests)
Eeewwww!
It didn't help that I was sick on Tuesday night…we still don't know why, but suspect that my stomach rebelled over too much garlic in the garlic bread that Mr FD made to go with the chilli (again, strong flavours). This meant that yesterday evening I was worried that I might vomit again, just as a result of eating dinner, but luckily I didn't. I felt a bit nauseous, and had a slight stomach ache, but it was OK.
Even today, I still feel tired typing (!) and, while the taste in my mouth is less metallic, there's still something there. I could suck on mints, but they make me feel a bit queasy after a bit!
Anyway, I'm hopeful that I'm on the road to recovery, especially as we're off with Les Cyclos to La Londe on Saturday. We went there a couple of years back (see here)
and had a good time. Although I won't be up to doing much, we hope that it will still be good. We're staying in a holiday village: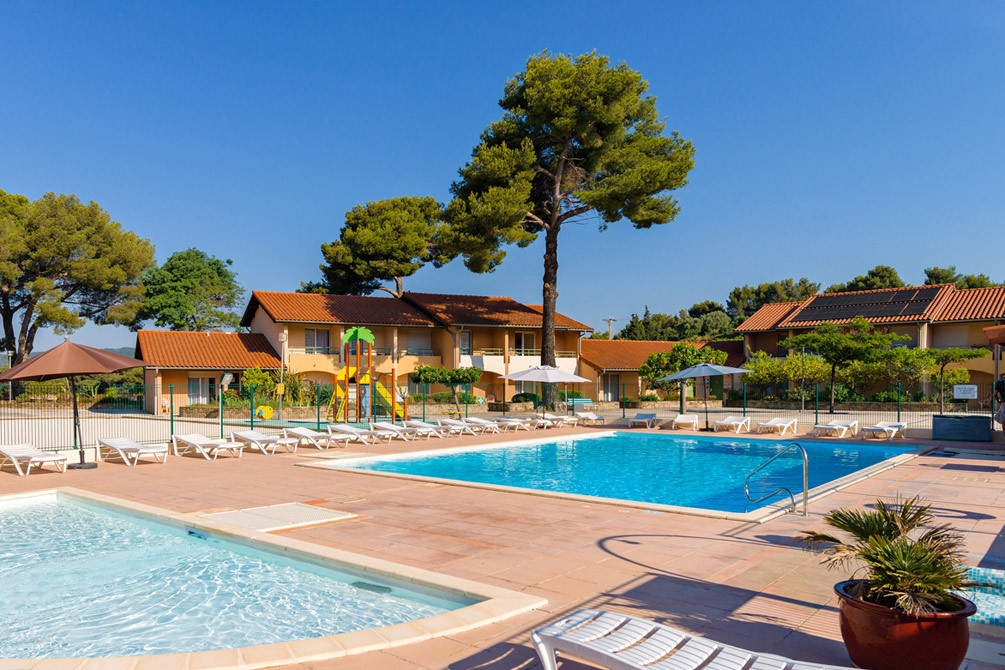 so if I feel really tired I can stay there – I'm taking drawing equipment, watercolours, a well-stocked Kindle, and maybe even my knitting (blankets for cats) I'm also taking my computer, so hopefully I can blog from there too. I seem to remember there's a little botanic garden in the town (unless I'm mixing the place up with another of the many places we've been to with the Cycle Club – which is perfectly possible!) and a beach a couple of kilometres away, so I should be able to drive to these. It probably won't be warm enough to use the swimming pool though!
Unfortunately, Mr FD has had a problem with his bike – something on the carbon frame has cracked which means he can't ride it. He's taken it back to the shop and we are hoping that the "lifetime guarantee" will mean that he'll get a new frame, but this isn't certain. Even if he does get a new frame, it won't be ready for Saturday, so it means that he has borrowed his old cycle, which he'd given to a friend of ours, and is spending today tinkering with it, to get it up to scratch – this means he's putting on different wheels, his super-duper saddle etc etc. – and giving it a good clean. I think he's a bit disappointed – but at least he will have a bike to ride.
So…finally, I'm back in the land of the living (just!)
PS
I've just had a phone call that tells me I've won something – unfortunately having entered so many free competitions, and the call was on a very bad line, I couldn't understand what I have won. I asked if they could send me an email… let's hope I can understand that! I'll keep you posted!