When I was at summer school this year, there was a large group of teachers who were die-hard Harry Potter fans. They had grown up with the books, knew which House they belonged to, could quote from the text, had seen the movies several times over, probably owned multiple copies of the books…I caused a shocked silence when I announced that I had stopped reading halfway through the third book because I was bored, and that I had never seen the films.
There was a concerted effort to get Brian (a Polish teacher) and I to lose our HP "virginity" and to watch the films. Unfortunately, they were shown rather too late for me, so I saw HP1, HP 3 and a bit of HP7:1 but that's all. Brian bought the first book, but wasn't getting on very well with it (but to be fair, he was reading it in his second language!) but I think he saw more of the films than me.
They insisted I did the sorting hat quiz on t'internet, and I was pronounced a Hufflepuff. I'm not sure what Brian was…
I have to say, the attraction of the films was always Alan Rickman. Although the Snape wig did nothing for him, looks-wise, that voice and those hands..! Sigh. But I wasn't really gripped by them. Maybe I'll try to read the books again, to make Olaya, Claire and Gaby happy!
I saw on FB that it was Claire's birthday a couple of days ago, so, as I was looking for a subject for my next Zentangle, I decided to try a Harry Potter themed one. I looked on t'Internet for inspiration and came across this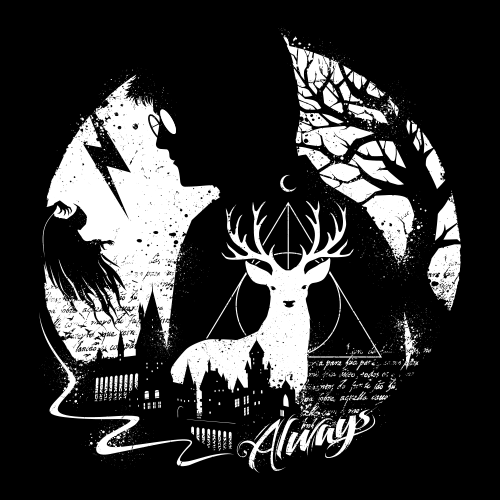 which I used to help me create this:
Sorry – bad photo as always!
Not much better…
The original captured Daniel Radcliffe's profile much better than I have – mine looks as though he's chewing a wasp, unfortunately – but I still quite like what I've done. The plan was to zentangle the face too, but every pattern I tried made it look as though he had really bad eczema or a terrible skin disease! So finally I left it blank.
The "Always" comes from Snape, as he declares that he has always and always will love Lily, Harry's mother.
There is a terribly sad quote attributed to Alan Rickman (but which apparently he never said. Which is a bit disappointing, but never mind.)
which, of course, did not come true, as he died on January 14th last year. Too young at 69, of cancer.
I may try another variation on this theme. I rather like it.