This is a bit of a cheat, posting my sermon, but I do like to share them. If it doesn't float your boat then you can hang around for the next installment of the Cyclo's trip, which I'm hoping to post tomorrow. But I know some people are interested, so here it is:
READINGS: Acts 2:42-47; Psalm 23; 1 Peter 2:19-25; John 10:1-10
Every Sunday, when I was young, my parents took my brother, my sister and I to my Nana's home, where we would spend the day. We would go to church with her, and then have our roast dinner at midday. Nana would make scones, or potato cakes, and then we would troop back to church, where she would hand out bags of freshly made baked goods to her friends and neighbours, and I would go to Sunday School. This took place in the basement of the huge edifice that was County Road Methodist Church, and I remember that on the walls of the basement room were various pictures considered suitably edifying for young minds. There was Holbein Hunt's "Light of the World" and there was also a rather insipid painting of Jesus as the Good Shepherd.
Wearing a long white gown – eminently unsuitable for life in the fields, I would think – an extremely Caucasian Jesus was holding a lamb in his arms, while other lambs and sheep pressed against his legs. It was a comforting picture – there were rolling green hills in the background, the sheep were plump and just-washed white, there were no predators lurking behind bushes, licking their lips, and dreaming of lamb chops for dinner. Jesus as the Good Shepherd. We as the lambs.
And it is this picture that is reflected, at least to a degree, in the Psalm that we read together, the Psalm that is probably best known of all. The Lord is my Shepherd, I shall not want. What a glorious image that is, even to those of us who nothing about animal husbandry; we imagine that picture of the shepherd carrying his lambs, caring for his sheep.
The Psalm tells us of a Shepherd God, who leads his flock to green pastures and still waters, who knows exactly what they need and provides this. All the sheep need to do is to trust their shepherd, to follow his voice, because they understand that he will not lead them to harm. After wandering in the dryness of the hillside, the shepherd finds a place where his flock can rest and be nourished by the green grass. For us, as human beings, the words "he leads me beside still waters" will conjure up ideas of peacefulness and calm; in fact, in sheep terms it is much more important than this. Sheep are not great fans of rushing water: they will drink from it, but they are reluctant to do so, as they are afraid. They prefer still, or gently flowing water where they can drink, without fear, to their hearts' content. The Shepherd knows this and he brings them to those places where they can feel safe, and take the opportunity to be refreshed.
The Psalmist goes on to say that even in the ravines that the Shepherd leads them through, the sheep can feel secure, as they know the Shepherd will protect them. Even when they cannot see him, they hear the tap-tap-tapping of his staff against the rocky path. They know that his rod, the cudgel he wears at his belt, will fend off any predators who come near. They are safe.
And we can read this Psalm, and feel comforted by the picture that it gives us of our God as a caring Shepherd: if we trust him, he leads us to places where we can be at peace, where we can be nourished; he does not confront us with things of which we are fearful, but instead brings us contentment. Like the flock following their Shepherd, we don't necessarily need to know where we're headed, all the details of the journey. Only that we are in the right place, right now, just where we should be. And even when we have to face problems, then we can rely on him to be there, still leading the way and protecting us. Everything is calm, everything is beautiful, everything is rosy. It is that pastoral picture of Jesus cuddling a lamb, with the washing-powder white flock surrounding him, looks of sheepy contentment on their faces.
But, as Rob said last week, it is not in these situations of comfort that we grow. He talked about times of loss and struggle as being the catalysts for knowing and learning. Learning about ourselves; learning about God. As Christians – as human beings – we get very used to being in our "comfort zone". We do things a certain way, we believe certain things, we behave in certain manners, and when we have to step outside of this zone, we begin to feel uncomfortable, and challenged, and maybe scared. Suddenly we are being asked to do things in a different way, our belief system is being questioned, and we have to consider something we've never thought of before.
So far, we have pictured our sheep as obedient creatures who, trusting their Shepherd, will follow him wherever he leads, doing whatever he tells them to do, and responding to his voice. But if anyone has watched One Man and his Dog, or seen sheep being rounded up, they know that this may not always be the case. Sheep are not as dim witted as we often imagine, but – rather like us – they prefer their comforts, they prefer feeling safe to being challenged. However, the sheep can't spend their whole lives in the sheepfold, no matter how safe the enclosure may be. There's no food in the fold, after all. The sheep may be comfortable and safe, but they must follow the shepherd out of the fold in order to find sustenance, in order to live.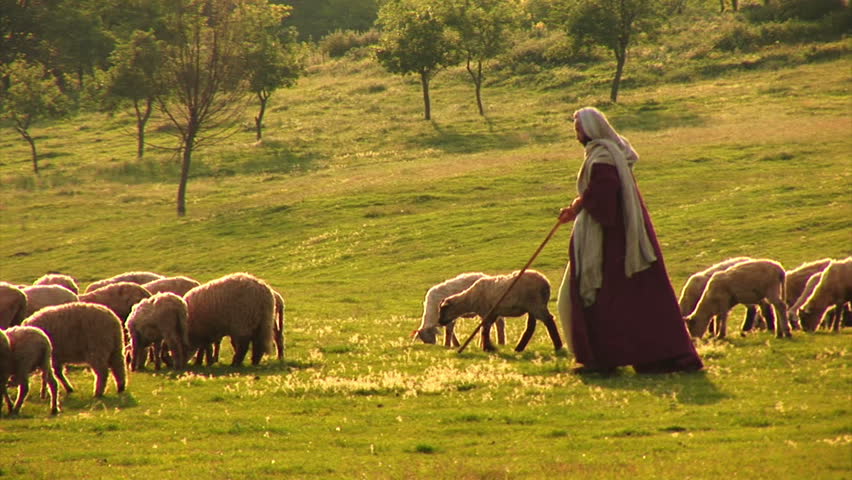 And this is where Jesus' picture of himself as the Good Shepherd comes into play. In today's reading, we don't hear Jesus actually use this metaphor – that comes a few verses after those we read today – but we do hear him talking about how his flock know his voice. The shepherd of the sheep calls his own sheep by name and leads them out., says Jesus, and then he continues. When he has brought out all his own, he goes ahead of them, and the sheep follow him because they know his voice.
It is while researching this sermon that I found the answer to something that has often perplexed me about this Gospel reading. I have always been a little surprised how in this passage Jesus skips between metaphors, first saying he is the gate to the sheepfold, and then a couple of verses later, refers to himself as the Good Shepherd. It has never seemed to make sense, as usually Jesus takes just one image and develops it to lead his listeners to understanding what he means. However, I discovered that , in the Middle East of Jesus's time, the sheepfolds were not individual folds, where each shepherd kept his own flock, but rather they were communal affairs, probably built into a hillside, with stone walls protruding out, narrowing to an entranceway. Various shepherds would bring their flocks to the fold where they would all mix together as they rested for the night. Once the sheep were all in the fold, the shepherds would lie in the entranceway, acting as a gate effectively securing the sheep, and protecting them from harm, from predators and thieves. Then, in the morning, the shepherds would call and chivvy their own sheep out of the fold to find grazing for the day.
So, Jesus could refer to himself as both the gate and the Good Shepherd, because any good shepherd acted as the gate to the sheepfold. Jesus' listeners would know this, and so when he referred to himself as the gate, protecting his sheep in the fold from thieves and bandits they would immediately picture the Shepherd lying down between his flock and those who would harm them. Literally, laying down his life for them.
There we have it, that image of the Good Shepherd who cares for his flock, and the group of sheep trooping obediently after their Shepherd, because they know his voice, they trust him, they love him.
Well…not exactly.
You see Jesus' choice of words here is telling, but our translation into English does rather obscure the particular word that Jesus uses. "When he has brought out all of his own, he goes ahead of them," says Jesus in the version we use in church. In this verse, there's a fairly weak rendering of a Greek word that appears over and over again in the Gospel. We hear this word every time Jesus casts out a demon. We hear this word when Jesus makes a whip and throws the moneychangers out of the temple. We hear this word when Jesus speaks of driving out the "ruler of this world." In every instance of this word in the Gospel, Jesus is doing some sort of battle: he is pushing, pulling, throwing, yanking, driving, exorcising, casting out. But in this instance about the shepherd and the sheep, the translators decided a nice, safe, neutral translation was better. The shepherd simply "brings" his sheep out of the fold.
But this pushing, this shoving by the Shepherd is something that we so often need. Just as the sheep may actually prefer to stay in their fold, surrounded by safe stone walls, don't we prefer to stay where we feel comfortable? We want to know that we have money in the bank, and a roof over our heads, we feel we need our jobs, our cars, our possessions that surround us. We feel that if we have these things that society tells us are so important then we are doing okay. We don't want to let them go, because then we might have to face up to facts that we don't like. We want to hold onto the beliefs we have held dear since childhood, and don't want them to be challenged, because then we may have to face up to a God that isn't just on our side, but on the side of the outcasts and the not-quite-our-sort-of-people. We want to feel safe. We want to stay in our comfort zone, in our sheep fold. We want to huddle together with people like ourselves.
But, as I said earlier, if the sheep stay in their fold they will not be fed. It is not good for them to stay there, and so the Shepherd will force them from the restrictive stone walls and bring them out. Because he knows what they need. It is when they are released from the confines of the fold that they will have the freedom to find the nourishment they need. The good grass that will help them to grow, to have life.
A few verses later Jesus says Whoever enters by me will be saved, and will come in and go out and find pasture. …. I came that they may have life, and have it abundantly.
So what is this abundant life that we can have, if only we allow ourselves to be challenged by our dynamic Shepherd-God?
I believe that this is what is illustrated in the reading from Acts, which told us about how the early church lived and worked together. Let me remind you of what we heard: All who believed were together and had all things in common; they would sell their possessions and goods and distribute the proceeds to all, as any had need. Day by day, as they spent much time together in the temple, they broke bread at home and ate their food with glad and generous hearts, praising God and having the goodwill of all the people.
Here we read about how the early Christians accepted the challenge set before them by their Lord. We have a picture of them, no longer clinging to their possessions, to what was theirs, to what made them feel safe. Instead they were open to providing for those who were in need. Yes, they retreated into the safety of the sheepfold – spending time together in the Temple – but they did not stay there. They also lived out the Gospel in their everyday lives. One commentator I read talks of the early church "gathering for growth and worship balanced by scattering for work and to communicate the Gospel". This is the life that our Shepherd challenges us to live: yes, by all means, retreat to the sheepfold at night, where you feel safe with others from your flock. Rest, and be comforted in the sheepfold of the church flock. But do not stay there. In the morning, go out into the world to find nourishment in following your Shepherd. He will lead you to unexpected places, but they will be places where he will go before you, guiding you and taking you further and higher than you might even believe you can go. There will be challenges, but by facing those challenges you will be fed and you will learn about yourself, and your relationship with the one who leads you, because it is only when we are taken out of the places where we feel comfortable that we learn who we are and what we can do. It is only in leaving the safety of the sheepfold that we can be nourished, and grow, and truly learn what abundant life God offers us.
And so, I would like to finish with the words of Adam Thomas, a young minister in Massachusetts, who writes:
The message of the Resurrection is this: life cannot be conquered– not by death, not by sin, not by the powers of darkness. Life happens–fully, intensely, eternally. Indeed, Jesus told us: "I came that they may have life, and have it abundantly." The Resurrection of Jesus Christ ripples out to touch every life, everywhere, for all time. The wonder of Easter morning shows us the utter lengths that God goes to in order to offer us abundant life.
And yet, while life cannot be conquered, life can be delayed, put on hold, made dormant. When we retreat to the safety and comfort of our own personal sheepfolds–whatever they may be–we refuse to participate in the fullness of a life lived in God. Of course, existing in the sheepfold is easier, less demanding. But existence is not life. Ease does not bring joy. And less demanding often means less fulfilling.
We cannot import into our sheepfolds the abundant life that Christ offers us because the very fullness of that life cannot fit inside a safe, comfortable enclosure. Christ drives us out of the sheepfold so that our lives have the opportunity to expand, that we may embrace God's unrestrained abundance. During this season of Easter, join God in the expansive life found in the Resurrection. Listen for the voice of the shepherd calling you by name, calling you out of complacency. And give Christ the chance to cast you out of your sheepfold so that you may find the fullness of a life lived in the abundance of God.